Deconstructing the Fitness Industrial Complex: Panel Discussion and Book Signing
Barnard College welcomes editors Justice Roe Williams, Roc Rochon, and Lawrence Koval as well as contributor Asher Freeman in celebration of their new book Deconstructing the Fitness Industrial Complex; How to Resist, Disrupt and Reclaim what it means to be Fit in American Culture (North Atlantic Books.)
Exploring their own diverse experiences as personal trainers, gym founders, educators, activists and movement instructors who hold BIPOC, trans, queer, fat, neurodiverse and other identities, the contributors to this anthology challenge what it means to be "fit" or "unfit," "well" or "unwell," while operating within an industry that defines fitness as straight, white, male, middle class, heteronormative and thin. Readers are invited to consider the origins of gym culture in the U.S., including the roles of eugenics, nationalism, evangelism and more.
Our speakers will interrogate the Fitness Industrial Complex and our role in it through a Community Movement session followed by a panel discussion.
Schedule
Community Movement Session: 3-4pm, Arthur Ross Courtyard (Quad), Barnard College (3009 Broadway, NYC) led by Roc Rochon (founder of Rooted Resistance,) Justice Roe Williams (founder of Fitness4AllBodies), and trainer Lawrence Koval.
The goal of this Community Movement session is to reclaim public space for the trans and nonbinary communities and their allies through movement.
Free yoga mats will be available, or bring your own.
Followed by a Panel Discussion, Q&A, and Book Signing: 5-7:30pm, Milstein Center Room LL002 (Chu Classroom) (3009 Broadway, NYC)
Free and open to the public. Free food and refreshments. Books will be available for purchase. RSVP required.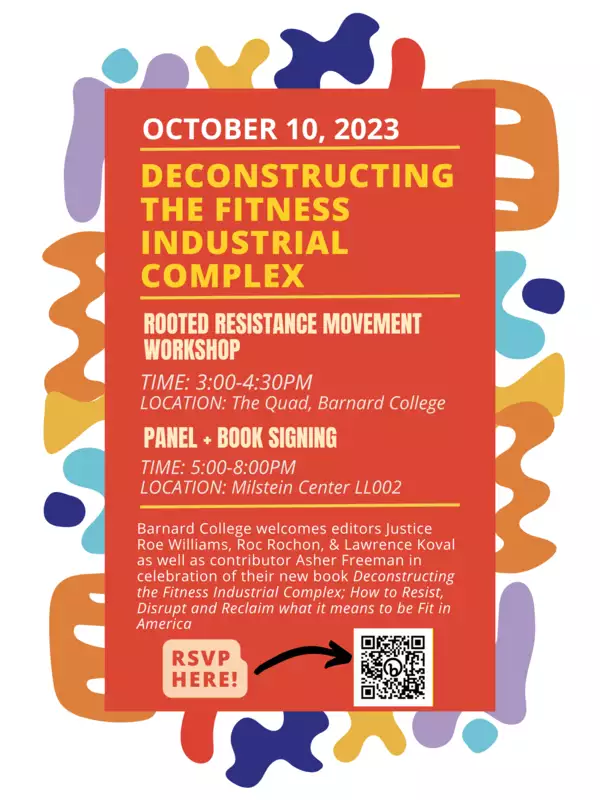 About the Speakers
Justice Roe Williams (he/him) is a poet, writer, author, and now editor. Williams is also a certified personal trainer, head coach at Kettlebell Justice, founder of The Queer Gym Pop Up and BodyImage4Justice, and executive director of Fitness4AllBodies based in Boston. Williams is a trans, body-positive, and social justice activist who continues to create safe spaces for all bodies across the globe through his work with Fitness4AllBodies. He advocates for fitness being for everybody and the importance of trainers and fitness professionals using their status as gatekeepers to "act as a shield" to protect their clients and create safe, affirming practices and spaces. A key component of his work has been working with people of all backgrounds to address and dismantle toxic masculinity and how it operates within white supremacist patriarchal culture. His work has been featured in Good Housekeeping, NPR, Pink News, Boston Neighborhood Network News, and more.
Roc Rochon (they/them) is a cultural worker and founder of Rooted Resistance, a grassroots-based community committed to reimagining movement and physical activity for transgender, gender non-binary, intersex, and queer people in the southern US. Movement outdoors is their form of refusal to commercialized notions of the body and an imperative intergenerational space that curates a growing and emancipatory relationship with our bodies, each other, and the land. Rochon (Phd, FSU) is a Postdoctoral Research Associate at the Neag School of Education Department of Educational Leadership Sport Management Program, University of Connecticut. Their research interests are in sport media and cultural studies with an emphasis on the intersections of race, gender, sexuality, and place. Rochon's studies are concerned with unsettling "sport" through understanding how histories of land, power, subjugation, and colonialism interact with bodies (human and non-human) in sport and physical cultural spaces. Most importantly, Rochon's interest is in the ways that Black queer, trans, and nonbinary folk construct placemaking spaces which tend to collective Black life.
Lawrence Koval (he/they) resides on the ancestral homelands of the Council of the Three Fires (the Ojibwa, Ottawa, and Potowatomi tribes) known as Chicago, Illinois. Receiving their Folklore MA from UNC Chapel Hill in 2021, his thesis work, "Explorations in the Inclusive Fitness Movement: Community Voices & Visions," was inspired by both their experience working in the fitness industry and the incredible activists, professionals, and collectives focused on imagining gyms and studios as spaces to engage in alternate, visionary economies of care. Having worked in the fitness and wellness industry since 2011 as a yoga, cycle, and group fitness instructor, and going on to obtain their personal training certification in 2021, Lawrence finds it imperative that people consider the way politics are enacted and produced in fitness spaces. Their work continues to explore sports and physical culture especially related to media through the lens of queer studies, critical disability studies, and cultural studies.
Asher Freeman (they/them) came to the fitness industry with a background in youth work and grassroots organizing. While their day-to-day schedule looks different now, the core of their work is still relational and justice-based. They train clients and teach classes under the banner of Nonnormative Body Club. Their goal is to remind people that our bodies belong to us, and we have every right to inhabit, nourish, and celebrate them as they are. Their favorite forms of exercise are biking, weight lifting, and experimenting with movements that are new to them, and their favorite workout buddies are their partner, Ray; their baby, Havi; and their cat, Lorraine.
Sponsors
BLAIS, LeFrak Foundation Center for Well-Being, The Wellness Spot, and the Barnard College Office of Diversity, Equity, and Inclusion Diversity Council.
Accessibility
Accessibility needs email tbryant@barnard.edu. Masking required.