Harlem Holiday Lights 2023
Every year during the holiday season, 125th Street is decorated with what seems like an endless amount of lights. Residents of Harlem and visitors from other New York City neighborhoods can stroll down 125th Street to enjoy the lights while doing their holiday shopping and supporting businesses in Harlem.
To kick off the holiday season, join the Harlem Holiday Lights event and watch the Caravan of Lights parade, featuring floats from community organizations and sponsors that will travel on 125th Street and Harlem to spread holiday cheer.
Where can I see the Caravan of Lights?
The Caravan of Lights departs from 125th Street and Broadway at 6:00 pm ET on Tuesday, November 14, 2023 and continues down the corridor to Adam Clayton Powell Jr. Blvd, where it will continue traversing around the Harlem community concluding at Morningside Avenue. See below for a map of the parade route.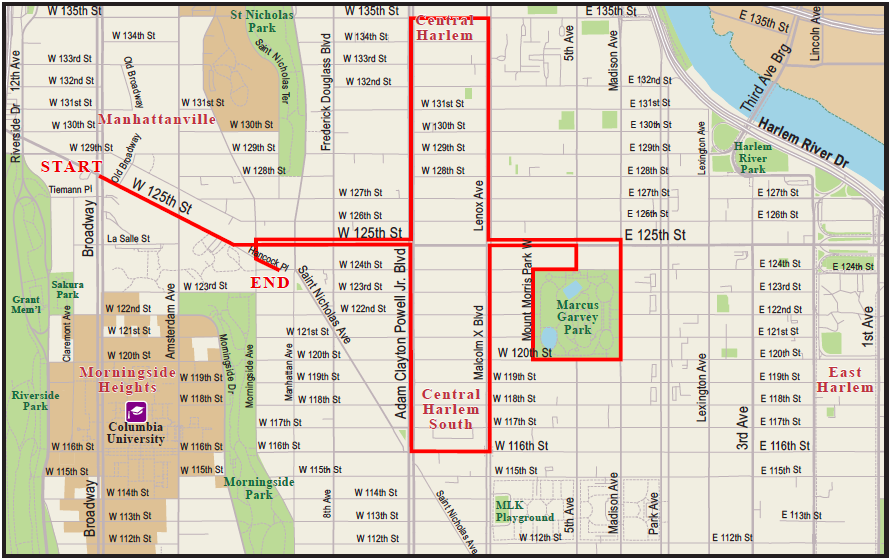 How can I participate in the parade?
Business owners and community residents along the route will add to the festive atmosphere of the evening, by decorating their properties in appropriate holiday decor. The Caravan's will fill the route with music and holiday cheer that is infectious.
What other activities will there be for parade-goers?
There will be a variety of other activities and fun giveaways all throughout 125th Street and during the day. From Harlem Wine Gallery wine samplings to tree lightings to musical performances, there'll be plenty of activities to take part in, in addition to the parade. See the full list of activities at Harlem Light It Up's website.
Event Contact Information
125th Street Business Improvement District
bid125thst@aol.com